Crowdsourcing temporary third places on Park(ing) Day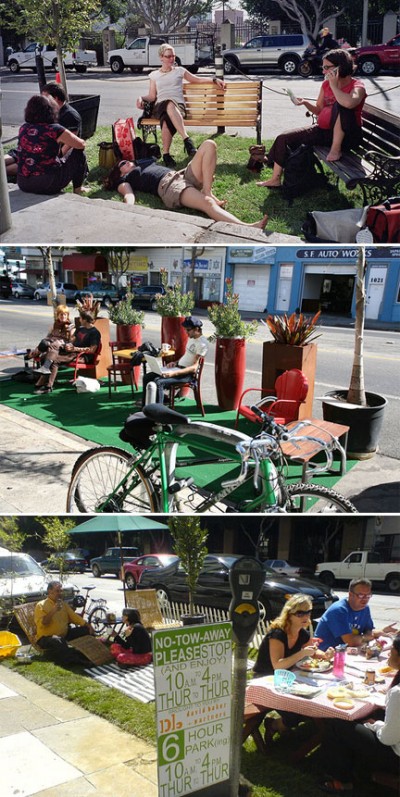 What's out: Protests demonstrating what you don't want.
What's in: Crowdsourcing what you do want.
One perfect example of that is Park(ing) Day, when people who are fed up too many parking spaces and too few third places simply build their own third place on one day each year – on a parking space.
It was started two years ago by Rebar, a collaborative group of creatives (surprised?) in San Francisco. It is now sponsored nationally by the Trust for Public Land (TPL). Participating cities include:
Atlanta, GA; Austin, TX; Bend, OR; Boston, MA; Charleston, SC; Chicago, IL; Dallas, TX; Kenosha, WI; Los Angeles; Louisville, KY; Miami; Minneapolis, MN; Missoula, MT; New Brunswick, NJ; New York City; Pomona, CA; Portland, OR; Providence, RI; Raleigh, NC; Sacramento, CA; St. Louis, MO; St. Paul, MN; Salt Lake City, UT; San Diego, CA; San Francisco, CA; Sanford, FL; Seattle, WA; Syracuse, NY; Tampa, FL; Vancouver, WA; Washington, D.C.; Waukegan, IL; West Palm Beach, FL… Internationally, London, Berlin, Barcelona, Valencia, Munich, Rio de Janeiro, Toronto, Melbourne, Vilnius (Lithuania)… Participation details for each city are listed here. Is your city cool enough to be on the list? If not, it's simply up to you!
Check out the Park(ing) Day video here.