Stockholm, Sweden's eco-city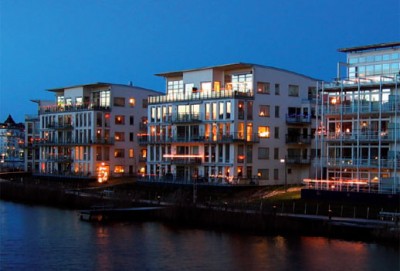 There's endless talk about building eco cities that don't seem to meet reality, so it's nice to see one that's actually built. Developed on a 500-acre former industrial and harbor brownfield site, Hammarby Sjostad is a contemporary green, carbon-neutral-oriented neighborhood. Hammarby provides homes almost 10,000 residents with an additional 9000 homes and 10,000 jobs coming by 2015.
One key characteristic that is all too often ignored amid talk about eco cities (which are ironically planned in greenfields) is the the development extends and mirrors the urban fabric of Stockholm's vibrant inner city with consistent city street dimensions, block lengths, building heights, density and mix of uses. This is a largely overlooked, but primary reason why it has received acclaim for its quality of life.
The sustainability goal is that the environmental impact from emissions will be a whopping 50% lower than other new developments. This is achieved through its custom ecological ecosystem known as the Hammarby Model, utilizing green roofs; solar panels; eco-friendly construction products; fully integrated underground waste collection system piping waste to the local district heating plant, and its own wastewater plant. Want to learn more about the model? Other than via their website, the development even has its own onsite environmental information center, known as Glashusett, designed to educate residents, visitors and practitioners via study trips, exhibitions and demonstrations of new environmental technologies.
Thanks to Braulio Agnese of Architect Magazine for the reference.