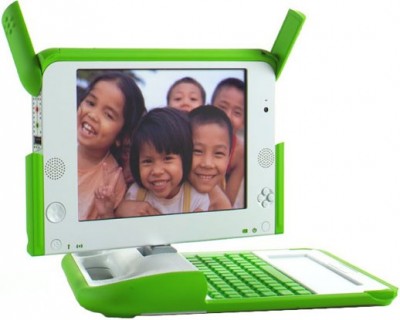 How does the customer fit in with design these days? From the annual Fast Company article, Masters of Design, here are some notables from their featured designer, Yves Behar, followed by how it could apply to design in your neighborhood.
– Companies that focused on customer-experience design outperformed the standard (S&P 500) by 10 to 1 from 2000 to 2005. Yves, founder of Fuseproject and arguably the 'LeBron James of design' states, The simplest definition of design is how you treat your customer." Maybe cities would outperform others by the same margin if they did the same.
– Yves and Fuseproject designed the XO-1 (pictured), aka the $100 laptop, a genius of design and execution. For school kids in Nigeria, the colors reflect the country's flag, with built-in bumpers for toughness, an extra-wide trackpad for drawing and a handle. Yet kids wouldn't trade it for a $1000 laptop, they don't even want to send it in for repairs for fear of never seeing it again. So… let's see if we can inspire the same passion for an attainable alternative to the luxury loft.
– Of the 368 board members of the 30 Dow Jones Industrials, only one has a design background, Steve Jobs. Think it shows? Who's on your city council? The partners of the leading developers in your city?
Here are his seven axioms of design (think of Apple as the benchmark):
1. "Design is how you treat your customers."
2. "Design must be integrated throughout the organization."
3. "Design is not a short-term fix."
4. "You must be willing to fail at the design level."
5. "Design must be driven from the top."
6. "With design, the solution to a problem will be different every time."
7. "Never ask the consumer about the future. You can ask them what their aspirations are, but you will not get an answer about what you should do. Design will bring those stories to life."
Crowdsourcing is about bringing those individual stories to life at once, and without the seven axioms there's a good chance people won't be engaged with the result.