Small town green micro-village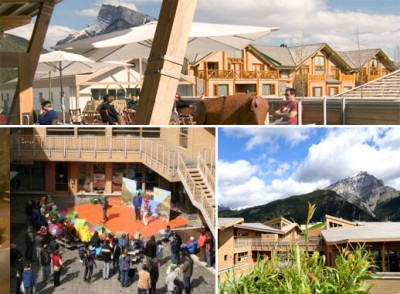 "I never leave the courtyard," says one of the tenants of the Bison Courtyard in the heart of the small town of Banff, Alberta, Canada (immediately surrounded by one of the most beautiful landscapes anywhere in the world, almost like a storybook).
The Bison Courtyard is just a modest $10 million building complex in scope, but it's a shining example of what happens when progressive minds work collaboratively toward a shared vision that inspires them on a daily basis, enough so that I guess they don't want to leave. Not surprising to this website's regular readers, the theme of the courtyard is green, healthy and social interation:
It's green features, thanks to LEED, is standard fare for enlightened developments:
– 92% of construction waste was cleared away diverted from landfills;
– The complex uses 70% less energy than comparable buildings;
– Rainwater irrigates drought-resistant plants and flushes toilets.
– It's designed by the world's most prominent green architect, McDonough.
The next step beyond green is health, though being green is already a significant step toward being healthy:
– The courtyard's restaurant is committed to serving locally grown, sustainably-farmed protein and produce;
– The bakery is dedicated to organic, gluten-free and low-sugar items;
– One store specializes in natural health, beauty, and sports nutrition
Finally, what's becoming increasingly more inspiring in these forward-thinking developments is the emphasis on social connections:
– Enough can't be said of how much the outdoor courtyard is used as a stage for both planned and spontaneous interactions;
– Benefiting the local community and culture, all eleven businesses are local, independents, with ten apartments above;
– The courtyard hosts an organic produce market and recitals, the hair salon organizes monthly art shows; and the restaurant runs pizza nights.
Then there's the historical significance built right into the complex…