Ani DiFranco and her church-turned-concert hall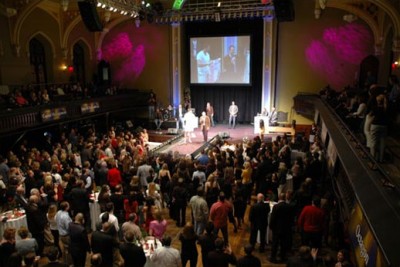 Recording artist Ani DiFranco wanted to energize the downtown of her hometown of Buffalo with some creative spirit. So she did what any other person would have done – transforming a doomed 19th century church into a 21st century destination that houses a concert hall (pictured), a record studio, an art gallery and bar/lounge.
The city slated the 1871-built church for demolition in 1995, and within a year DiFranco and her record company president launched a community-wide effort to save it, ultimately purchasing the building three years later. The renovated church reopened in spring 2006.
Known as The Church (aka Babeville), the building features:
– The concert venue, Asbury Hall, which hosts banquets of 300 to live performances with crowds of 1000.
– The gallery and screening room, which belong to Hallwalls Contemporary Art Center, whose mission is to bring the newest and most challenging work in the contemporary arts to the interested public.
– Righteous Babe Records, Ani's own indie rock label.
"I think it will be a really dynamic place that will have a momentum of its own once all the creative people are in there, and there is music happening at night, and art hanging on the walls and crazy cinema in the basement. I think that the collective energy of all those people coming together will emanate out through the neighborhood. The space itself has a soul – it's vibe-y, it's cool and it's beautiful." Ani DiFranco