Don't have a coworking site? Adopt a cafe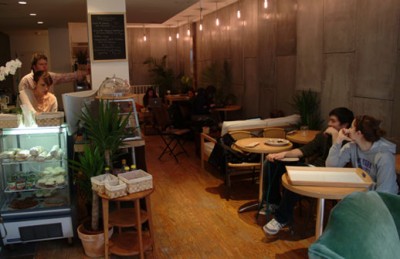 CooperBricolage (CooBric) is a coworking site company without a coworking site. They're working on finding one, they say, but in the meantime they're in the same dilemma as a lot of other entrepreneurs, free agents and home-workers who want a shared workplace to share ideas and conversation, but don't have a common place to meet.
So CooBric found a cafe to serve as their interim coworking site, at Gramstand in Manhattan. Of course, it has to meet the coworking criteria: Progressive management, free wi-fi and a lounge-like-stay-as-long-as-you-desire setting. The difference between CooBric/Gramstand and simply showing up at a random coffeehouse is that there's a regular community of collaborating business interests that show up, facilitated via online community as well.
From Richard, Gramstand's founder, "The CooBric people have been great so far. They respect the cafe environment, understand the need to support it, and have an entrepreneurial spirit that I appreciate as a business owner. I have a long-term goal of elevating the concept of cafes and baristas to re-encompass the idea of community that is lacking at most urban Starbucks-style cafes. I want Gramstand to be a physical, trustworthy storefront that facilitates the craigslisted lives we increasingly lead."