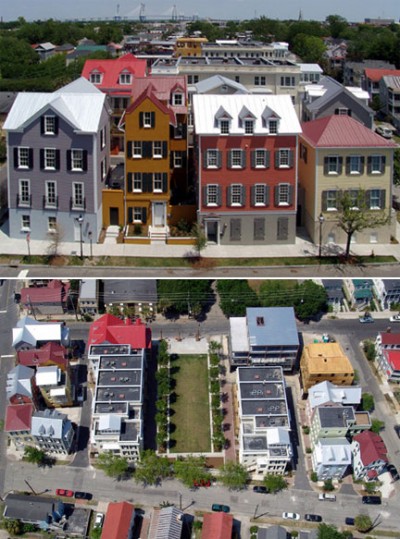 Every once in a while it's important to show a bit of beauty in an urban infill development, even though it might not be attainably priced. The ultimate goal of course, is to combine beauty with attainability.
One of the development partners, the I'on Group, specializes in building beautiful homes. The other development partner, Civic Square, builds beautiful public spaces into their projects, "that contribute to the ideal of a more successful public realm, whether in the form of a beautiful new park, a more sustainable community organization, or a well-built new sidewalk."
So what happens when the two are combined? The result is Morris Square in downtown Charleston, South Carolina. You can immediately absorb the craftsmanship in the homes and landscaped park, while the hardscape plaza with a fountain is yet to come, but will be the most striking feature in the project.
70 homes on the 2.7 acre site will range in size from 900 s.f. to over 2300 s.f., including a diversity of housing types: single-family detached, townhomes, and condos. There are 8 affordable homes, and profit from the project will contribute to the creation of 15-18 affordable homes on the Charleston Peninsula.