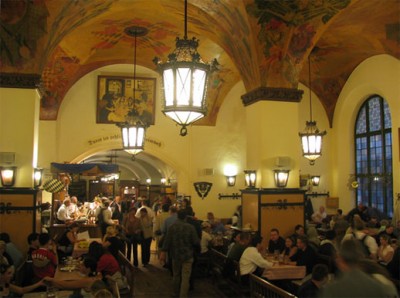 If you're visiting Munich and drink beer, you probably already know about the Hofbrauhaus (brew court house) downtown.
Wilhelm V., Duke of Bavaria, was dissatisfied with the beer brewed in Munich, so in 1589 he established his own brewery, the Hofbrauhaus (brew court house) to serve only his royal court (talk about an elitist brewery). It wasn't until 1828 that it became open to the public.
The main attraction of the Hofbrauhaus is multifold, and a great lesson for microbreweries. Of course there's the unprecedented history and you know the Duke of Bavaria wasn't going to hire anything less than the best brewmaster he could find, but what also continuously attracts people are:
– Ongoing events every night, often involving both live music and dancing. In other words, it's a party atmosphere.
– A restaurant that serves signature Bavarian dishes.
– An inn for people who don't want to stumble home too far.
– A ballroom for formal events.
– A beer garden for informal drinking (something the locals in Queens, NYC appreciate).
Today, the brewery is not only a model venue for a festive good time, it's perhaps become too popular, commercialized with tourism and franchised in other locations around the world.
It also happens to host the second largest beer garden tent at Germany's Oktoberfest which attracts 6 million people annually.
As one visitor put it, "I have never seen as much culture when it comes to drinking beer as here in Munich."
Image source: "http://www.flickr.com/photos/roonie/51833046/">Rich & Angie.