When you can't get enough outdoor dining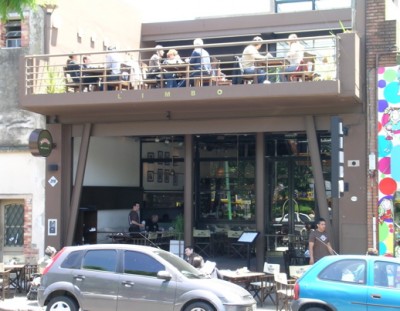 Especially for cities with great weather all year round, restaurants often find themselves with fully occupied seating areas outside, and empty tables inside. So, like the open air cinemas of Athens, some restaurants have adapted by turning their interior spaces toward the outdoors.
Notice that much of the interior ground floor of this restaurant in Buenos Aires has a patio feeling, while the equivalent amount on the second floor is open to the sky. Some restaurants, like The Reef in Adams Morgan, Washington DC, continue providing such rooftop space in the chillier months via an impermanent enclosed tent with heat lamps.
The benefit is not only to those within the restaurant – there is an added sense of vitality that the diners bring to the street, the vibrancy of an outdoor cafe times three.
Now, imagine a square surrounded by a series of buildings like these, decorated with even more outdoor diners in the center square – like experiencing a grand outdoor restaurant or a dining festival, every day.