Subways: The New Urban Status Symbol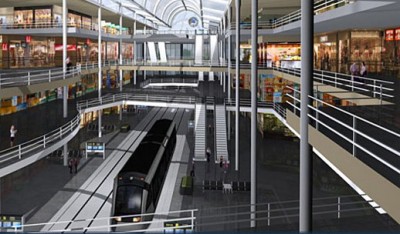 That's the headline of this week's BusinessWeek article, reflecting the fact that subways are the 'new hybrids', the ultimate status symbol of being a progressive major urban city.
According to a VP at Alstom, one of the largest transit car builders in the world, "You have in some cases a prestige issue, which is more the case in young cities in need of an image. Unless funding is an issue, cities usually will spring for a subway. The tramway [light rail] has a very old image of the 19th century, with horses in the streets." Now you know a company is on the cutting edge if light rail is considered 'historic', and in many ways it's one of the least efficient mass transit systems.
In Europe, the Middle East and North Africa, 25 cities are building or extending subway/metro lines. Here's a look at 10 up and coming subways:
1. Algiers, Algeria, the country's capital and second largest city in North Africa, commenced construction of their first subway (5.6 miles) last year.
2. Almaty, Kazakhstan's largest city should get its first subway (5.3 miles) next year (pictured).
3. Copenhagen, Denmark opened its automated metro system in 2002, and began a line this year to circle the city.
4. Dubai, United Arab Emirates will begin service in 2009 on the world's largest automated metro system. Given the city's building boom, no surprise.
5. Dublin, Ireland with a relatively modest subway population of 1 million (like those of Porto, Portugal and Cologne, Germany), will start construction in 2009.
6. Palma de Mallorca, Balearic Islands, Spain – With only half a million people, this tourist destination inaugurated a $164 million subway in April after two years of construction, though it's temporarily shut down due to flooding and mismanagement.
7. Parma, Italy will see construction start on a subway in 2008, which is avant garde for a city of only 170,000.
8. Rennes, France of 212,000 people, opened a fully automatic metro line in 2002, spanning six miles in just 16 minutes. The world's largest is in Lille, France.
9. Tel Aviv, Israel – 44% of the Israeli population may finally get a subway in 2010, covering 13.7 miles.
10. Turin, Italy – Opened in time for the olympics in 2006, commuters enjoy a maximum two-minute wait during rush hour. Now that's progressive.