Cubicleless in Seattle: Going creative (2 of 2)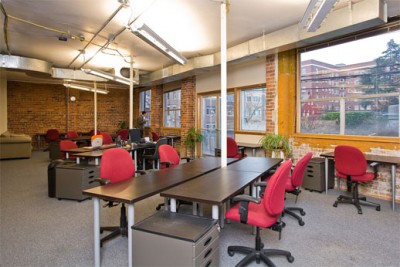 So where do the creatives in Seattle go to cowork when all the other options seem less than fabulous?
As of November 1st, many of them are heading over to Office Nomads, a 5000 s.f., 40-member much-larger-than-usual shared workplace in Capitol Hill, Seattle's walkable, diverse counterculture mecca. Considering there are 20 million 'personal businesses' in the U.S., they're increasingly not alone in their quest.
Founded by young entrepreneurs Jacob Sayles and Susan Evans, Nomads features:
– 24/7 access, electronic key cards
– Bike parking (no car parking)
– Dogs anytime
– Wi-fi, fax, printer, three meeting rooms, coffee lounge, water cooler (it's in their logo)
– Affordable rent: $475/month for a permanent workspace, $20/day.
The Office Nomads motto is 'Individuality without isolation,' their message, "A party of one is free to go wherever they choose, and pursue any avenue they please. No compromises need to be made, and dreams do not need to be diluted to fit into some greater vision. But by shedding the company, the community was also lost. Coffee shops tried to fill the void, but unreliable wifi and mid-day mom & baby conventions made it difficult to be productive. One more step is needed. We must band together to regain our community, yet retain our individuality. It is now time to move into the age of the office nomad."
You can even check out their coworking video.