Metropolitan areas with the most 'walkable urban places' per capita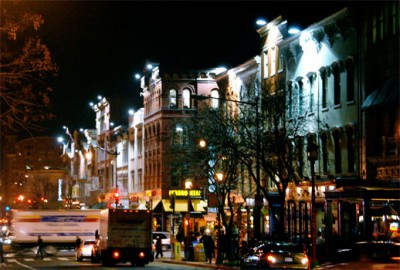 If you want to know the metropolitan areas with the greatest number of 'walkable urban places', this is a respectable list. However, if you want to know the metropolitan areas that are the most walkable urban places overall, this is not the list to look at (it counts Midtown in Manhattan as 'one' walkable urban place, and say, Reston, Virginia as 'one' walkable urban place, which is questionable unto itself, and with no weighted difference to account for it being 1/30th as dense) – otherwise New York would be #1.
Urban strategist Chris Leinberger's Brookings Institution study, highlighted in this AP article, Metropolitan areas ranked for walkability, counts the sheer number of 'walkable urban places', defined as:
– compact (regional-serving walkable urban places, as defined below, are generally between 100 and 500 acres in size), thus why Midtown and Reston get the same (flawed) credit;
– at least five times as dense as drivable suburban (floor-area-ratio of between 0.8 and upwards to 40.0),
– mixed-use (residential, office, retail, cultural, educational, etc.);
– generally accessible by multiple transportation means (transit, bike, car and walking);
– walkable for nearly every destination once in the place.
Key findings:
– There are 157 walkable urban places in the U.S., 65% served by rail transit.
– The largest number by type are adjacent to downtown.
– The NY metro area has the highest number of most walkable urban places, brought down by it having 19.3 million people in the statistical area).
Ranking the 30 largest metropolitan areas in the U.S.:
1. Washington, DC (pictured)
2. Boston, Massachusetts
3. San Francisco, California
4. Denver, Colorado
5. Portland, Oregon
6. Seattle, Washington
7. Chicago, Illinois
8. Miami, Florida
9. Pittsburgh, Pennsylvania
10. New York, NY
11. San Diego, California
12. Los Angeles, California
13. Philadelphia, Pennsylvania
14. Atlanta, Georgia
15. Baltimore, Maryland
16. St. Louis, Missouri
17. Minneapolis, Minnesota
18. Detroit, Michigan
19. Columbus, Ohio
20. Las Vegas, Nevada
21. Houston, Texas
22. San Antonio, Texas
23. Kansas City, Missouri
24. Orlando, Florida
25. Dallas, Texas
26. Phoenix, Arizona
27. Sacramento, California
28. Cincinnati, Ohio
29. Cleveland, Ohio
30. Tampa, Florida
The study, Footloose and Fancy Free: A Field Survey of Walkable Urban Places in the Top 30 U.S. Metropolitan Areas can be downloaded by clicking on it.
Image: Gallery Place, Washington DC by craigs9683.