The hidden public courtyards of Buenos Aires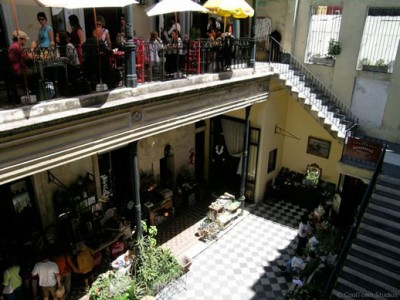 Hidden to tourists that is. The locals know where the public courtyards in their city are, and they make some of the best third places around, especially given that you can enjoy a little sun and warmth in the experience.
This particular one is in San Telmo, off Defensa Street, which is open only to pedestrians on Sundays (see previous entry). You'd never know it existed walking down the street (left image), demonstrating the value of exploring a city with a local ;) (How to experience the hidden community).
As you can see, it's a pretty ideal outdoor setting for a panini and margarita, good company and the pleasant buzz of relaxed conversation. The open air shops and outside merchandise displays also paint a colorful public market/street fair scene every day of the week.