Car free 'natural cultural districts' in the U.S.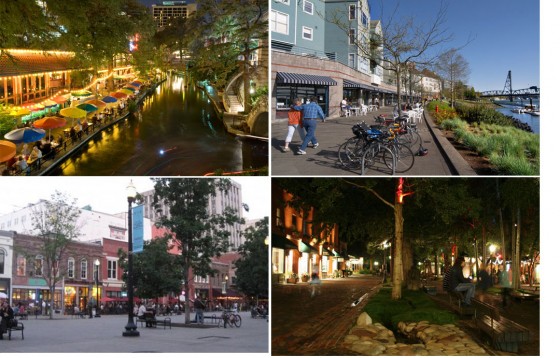 While there are 41 entries on the list of car free places (presented in the previous entry) in the U.S., the number may be misleading. For instance, not many of us will ever hear of, say, golf-cart based Bald Head Island, North Carolina, population 173, much less ever visit it or know anyone who does.
However, many of us do live in or visit natural cultural districts, so here are the car free iterations of those you'd probably want to check out if you're in the area:
California
San Francisco – 17th Street Plaza, one block (new).
Santa Monica – Third Street Promenade, 1/2 mile.
Riverside – Several blocks of pedestrian mall.
Colorado
Aspen – Pedestrian malls: Three downtown blocks of E. Hyman Ave., S. Mill St., and E. Cooper Ave. (pictured)
Boulder – Pearl Street Mall – Several blocks at the city center.
Fort Collins – Four streets in downtown.
Florida
Miami – Lincoln Road Mall, 7 blocks in South Beach.
Iowa
Iowa City – Pedestrian mall, several blocks downtown near the University of Iowa.
Louisiana
New Orleans – Several blocks between the French Quarter and the river.
New York
Manhattan – Plazas at Times Square and Herald Square (new)
Ithaca – Ithaca Commons pedestrian mall, two blocks.
Oregon
Portland – RiverPlace, 1/2 mile downtown waterfront pedestrian promenade
Tennessee
Knoxville – Market Square, one-block downtown pedestrian mall.
Texas
San Antonio – Riverwalk, famous restaurant/shop-lined on flood-controlled San Antonio River waterway.
Vermont
Burlington – Church Street Marketplace, four blocks.
Virginia
Charlottesville – Main Street pedestrian mall, several blocks.
Wisconsin
Madison State Street, six blocks, though buses, police cars and taxis are allowed.
The 'K' Street Mall in Sacramento; 16th Street Mall, Denver; Nicollet Mall, Minneapolis; Downtown Crossing, Boston and Fremont Street, Las Vegas; The Grove in Los Angeles; and the myriad Cornish 'Live!' entertainment districts are more corporate scale, chain-driven pedestrian districts, but pedestrian only nonetheless.
Images: Riverwalk, San Antonio; Riverplace, Portland, Oregon; Market Square, Knoxville, Tennessee; Aspen, Colorado