CNU's placemaking 2008 'Charter Awards' announced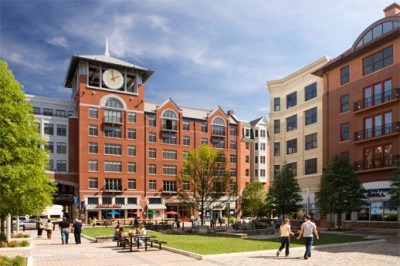 If you want to know which New Urbanism projects New Urbanism architects were most inspired by in 2008, check out the Congress for the New Urbanism's (CNU) annual Charter Award winners.
While these fall on the opposite spectrum from crowdsourcing and tend to be more baby boomer/upscale, they still provide important design lessons learned. Here are ten of the fifteen winners that are more urban:
Region, Metropolis, City, Town Scale:
Louisiana Speaks Regional Plan; Louisiana
A Civic Vision for the Riverfront; Philadelphia, PA
King Abdullah University of Science and Technology; Thuwal, Saudi Arabia
Neighborhood, District, Corridor Scale:
Woodstock Downtown; Woodstock, Georgia
Oakwood Shores; Chicago, IL
Rockville Town Square; Rockville, MD (pictured, and profiled previously)
Block, Street, Building Scale:
The Vision for Marion Square; Charleston, SC
Atlantic & Pacific Development; Montgomery, Alabama
Almeria Row; Coral Gables, Florida
Student Award
The North End Plan; Michigan City, IN; Andrews University, School of Architecture
What do you think of these projects?