Small town absorbing growth in the center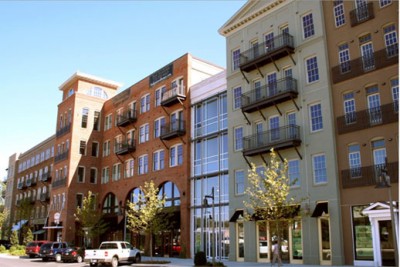 What happens when your population doubles from 10,000 in 2000 to 20,000 today? In the case of Woodstock, Georgia, 30 miles north of Atlanta, the result will be a vibrant downtown rather than sprawl and congestion – thanks to investment in the city core.
They're off to a good start, with their downtown plan winning a regional development of excellence award followed by a national award (CNU Charter Awards). The plan consists of 340 residential units, 85,000 s.f. of retail and restaurant space, and 22,000 s.f. of office space, including some rather sophisticated mixed-use buildings (pictured).
Check out the master plan here, and note how the building types change accordingly as one walks away from the downtown, with commercial surrounded by mixed-use in the core, followed by multi-family housing, then townhouses, and finally small-lot single-family and courtyard homes, all within a pedestrian-oriented urban fabric.