The CoolTown visual guide to crowdsourced placemaking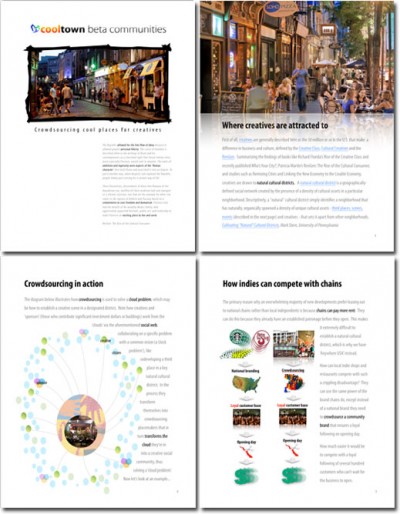 What is crowdsourced placemaking? A beta community? Creatives, VIBEs, third places, scenes, natural cultural districts…? All of that is explained in one definitive 13-page document, the CoolTown visual guide to crowdsourced placemaking and economic development, Crowdsourcing Cool Places for Creatives, published by CoolTown Beta Communities.
The table of contents:
The conflict: Cities are hitting a wall
Where creatives are attracted to
Third places, events and scenes
Identifying the problem and solution via 'clocks' and 'clouds'
What is crowdsourcing?
Crowdsourcing in action
How indies can compete with chains
Systems for profound change
Placemaking crowdsourcing systems in action
Appendix: CoolTown strategic map
Check out the progress of three ongoing crowdsourced beta community developments here.