The growing economic impact of the creative class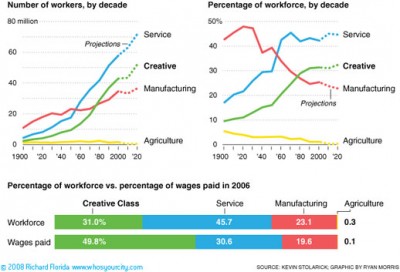 Richard Florida's Who's Your City?, profiled in the previous entry and available starting today, focuses on why place matters dearly in attracting the creative class. However, the book provides an effective visual (above) and an entire section among four on why the creative class matters in the first place.
Notice the rise in the creative class workforce along with services, and the decline in manufacturing and agriculture, especially to overseas. However, what's especially striking is the bar graphs in the lower part of the graphic, showing that while the creative class has 31% of the workforce compared to 45.7% for services, it produces 49.8% of wages paid compared to 30.6% for services. Even more compelling is that the creative class represents 70% of all discretionary income compared to 13% for services.
The good news for the local economy is that creative class jobs are not nearly as outsourceable as services and manufacturing, and they also add to the local arts, culture and entertainment scenes much more effectively as well.
Graphic used with permission from the Creative Class Group, and viewable on the Who's Your City? website.