Reader experience: Each cup 'made from scratch' coffeehouse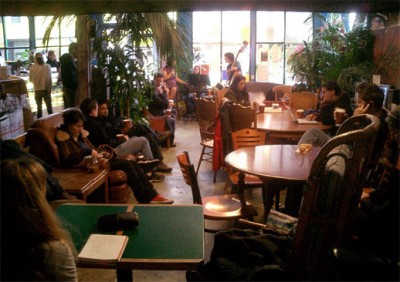 My favorite category on this website is Reader Experiences. What better way to profile inspiring places than to have readers relive such moments. Today's such person is Christian MacAuley, CEO of FabApps. Her experience:
"Philz Coffee in San Francisco makes your coffee one cup at a time. It feels special and tastes awesome. After waiting in line to be served, a staff member makes your coffee with you one-on-one, asking for your exact preferences so you're getting very individualized attention [then literally grinding the beans from scratch]. When the coffee's done, it's typically topped with a fresh mint leave or two (if you want it), and then your staff person asks you to try it right there to make sure you like it. It's a winner.
Particularly, I like how the service is personal and unique without feeling forced or exaggerated. The intimate service is authentic because their product – customized coffee – demands individual service. It may be a gimmick, but it totally works (because the coffee is top notch) and feels right."
Christian also happens to be a proactive member of a beta community that's crowdsourcing a green, vegetarian restaurant in downtown DC, aka Elements. She provided this profile as inspiration for the restaurant, "I definitely see some "elements" of Elements looking at this photo of the interior I took last year, such as the live music, the community, and all the green and sunshine."
Check out more reader experiences here – keep them coming!