Crowdsourced placemaking illustrated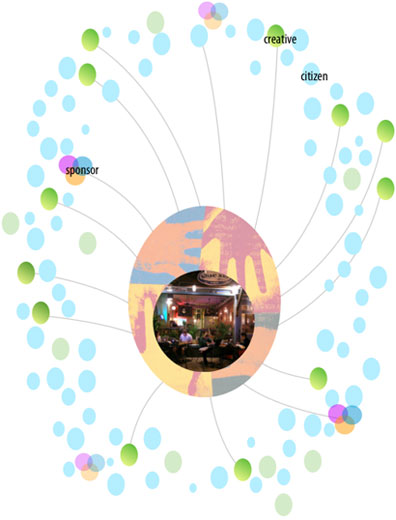 This diagram illustrates how crowdsourcing is used to solve a cloud problem, that diffuse, difficult to pin down dilemma such as how to establish a creative scene in a designated district.
In the graphic, note how creatives and 'sponsors' (those who contribute significant investment dollars or buildings) work from the 'clouds' (via a physical and virtual social network), collaborating on a specific problem with a common vision – a clock problem; a clearly definable situation, like how to codevelop a third place in a natural cultural district.
In the process the creatives transform themselves into crowdsourcing placemakers, which in turn transforms the cloud they're in into a creative scene, thus solving the aforementioned cloud problem.
This is an excerpt from the CoolTown visual crowdsourced placemaking guide. It may help to read about this within the full context of the document.