Third place coffeehouses as economic development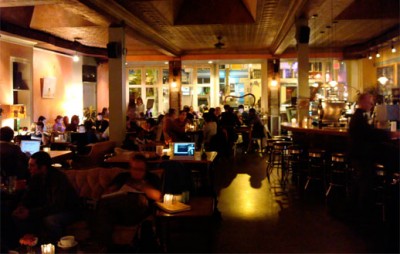 I first profiled Tryst back in 2003 as a popular coffeehouse third place in Adams Morgan, Washington DC. But five years later, ten years after it first opened, it's not only become a neighborhood institution, but it really should be seen as a contemporary model for job creation.
Here's the big picture:
1. A majority of big businesses come from small businesses, and small businesses are started by entrepreneurs… from their homes.
2. Many (not all) entrepreneurs who tried working exclusively from home will tell you one thing – it sucks. No human interaction, no place for meetings, no escape from spending most of your life stuck at home.
3. Coworking sites are ideal, but are often too pricey for the budding entrepreneur.
4. Thus, enter coffeehouses with free wifi and staff trained not to bug you too often if you've decided to park there for most of the workday. The good news is they're packed with entrepreneurs all day. The bad news is that they're not very profitable until they leave.
In the meantime cities are investing tons of capital in contrived business incubators that often fail. Why not redirect that capital into economic development tax breaks for coffeehouses that provide evidence of effectively acting as free workplaces for entrepreneurs?
On the one hand, Tryst makes no money before 6 pm. On the other hand one can't get a seat during the day. It seems to be an economic travesty not to have enough workplaces for the neighborhood entrepreneurs. Proactive cities will overcome this, but it obviously hasn't happened in Adams Morgan yet.