Bike sharing finally making it to the U.S.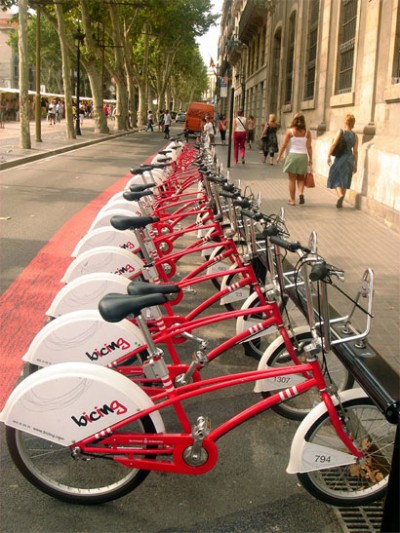 While cities across Europe were growing their bike sharing programs, especially in Paris with 20,000 bikes and nearly a thousand stations, U.S. cities had yet to initiate even one. However, that's about to change May 2008 when Washington DC becomes the first U.S. city to establish a bike sharing program.
Clear Channel Outdoor and the DC Department of Transportation are launching Smartbike DC, a modest but important introduction to bike sharing in the U.S. – with 100 bikes and 10 stations. Clear Channel, an outdoor advertising company, provides the bike sharing system in exchange for advertising on 800 bus shelters. Their most successful program to date is in Barcelona (pictured), with 6000 bicycles and 400 stations.
It operates very similar to the widely known Paris system, with electronic locking, recognition and payment. The Smartbike website provides a step by step guide, FAQ and reveals a $40/year subscription, but no word yet on hourly rates. In Paris, the first half hour is free and you can leave it at any station with no extra charge.
San Francisco and Chicago bike sharing systems are next, and NYC experimented. More at MSNBC.
Thanks to Barbara Forlini for the reference.
Image source: Spacing Magazine