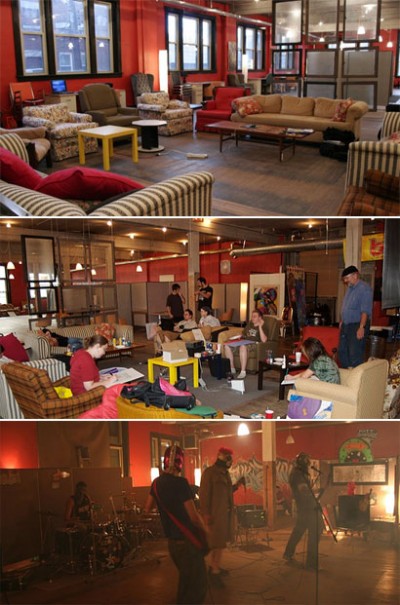 If you're looking for an affordable, creative place to work or hang out, you're in luck if you live in Pittsburgh, or more precisely, Bellevue, Pennsylvania, 4.5 miles from downtown Pittsburgh. That's where you'll find the Creative Treehouse; a 7500 s.f. arts-oriented coworking space. The key ingredients? An inexpensive lease in a developing neighborhood.
The membership-structured (starting at a mere $25/month) space features:
– A creative service center that will allow businesses to network with member artists (the coffeehouse/coworking scene, as pictured);
– Multi-purpose facility for public art displays, gatherings and even live music (essentially a large open room);
– Photography studio with darkroom;
Also, members are allowed to:
– Organize events;
– Host and attend workshops and classes;
– Be included in group showings,
– Update their online profile accessible to businesses and other members.
Events include 24-Hour Creative Marathons (e.g. publish a comic book), NY-style dance parties, and collaborative world happenings like the May 10, 2008 Pangea Day where 24 user-created films are shown simultaneously around the globe.
Open since June 30, 2007, the Creative TreeHouse has plans to expand to other cities (undetermined) in the future, which is expected since it fits the MySpace-oriented viral loop model of customer-motivated replication. As owner Jesse Hambley puts it, who founded the Treehouse as a 23 year-old independent photographer, designer and video editor, "It's like MySpace in a building."
Thanks to Christian MacAuley of Fab Apps for the reference!