A third place for bicyclists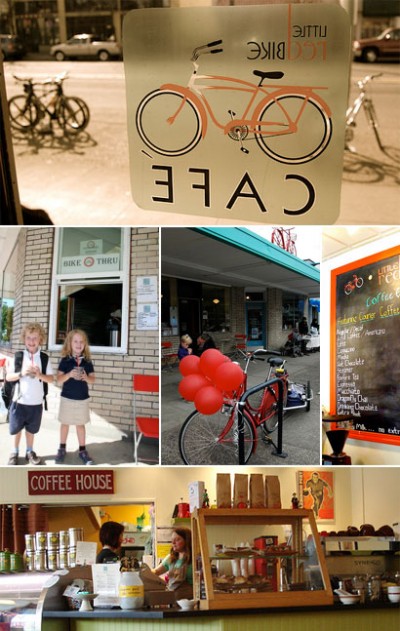 You may have heard about the cafe for bike commuters, but what about a hangout for casual riders? That's what two native local entrepreneurs had in mind when they opened the Little Red Bike Cafe in Portland, OR last year.
What makes it a bicyclist's third place?
– The bike-thru – Little Red Bike Cafe's version of the drive-thru (pictured behind the kids). Plus a 50 cent discount on your coffee if you bike.
– Lots of bike parking.
– A very well written and illustrated blog all about the kinds of food, events and culture bikers enjoy.
– Sandwiches called "Paperboy Special," "The Messenger" and the "Tandem Sandwich", with coffee delivered by Courier Coffee Roasters, "a Portland entrepreneur who brews a highly regarded roast and delivers his goods via his bicycle."
– On-site bicycle pumps.
– Bicycle repair kits for sale.
– Affordable prices.
– Bicyclists tend to be conscientious of the environment, thus the emphasis on local and organic produce whenever possible; homone, antibiotic and nitrate free meats; and cafe-free vegetarian fed eggs.
– Bike art everywhere!
Thanks to Luke Graven for the reference.