Small Cool Apartments 2008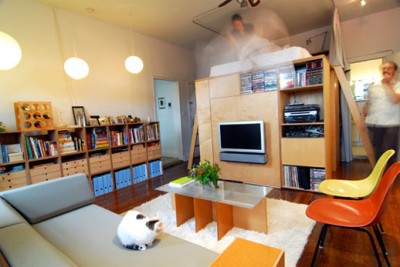 It's that time of year again to check out the winners of Apartment Therapy's Small Cool 2008 contest to discover the smallest (under 850 s.f.), coolest apartments in the U.S.
First place (topmost image) – Tony and Hilary's 3 in 1 Studio, Fort Greene, Brooklyn, NY, 460 s.f. "Living here as a couple with a cat, we have enough space to store everything we need without sacrificing comfort."
Second place – Jordan's Ordo Ab Chao, Los Angeles, CA, 412 s.f. apartment rental. Note the office nook in the kitchen.
Third place – Luca's Surplus of Storage & Light, Chelsea, NYC, 400 s.f. "I love my home because it's comfortable, full of storage area and light. Also, there are no traditional walls: the built-ins (left of image) separate the living area from the sleeping area."
Fourth place – Stephanie's Life of Pie, Chicago, 441 s.f. "Without being precious, everything here is special to me. But the best part? The heart of downtown (my "rec room") is just a 29 story elevator ride away!"
You can also take a look at the winners from Small Cool 2007 and 2006.