The contemporary urban delivery vehicle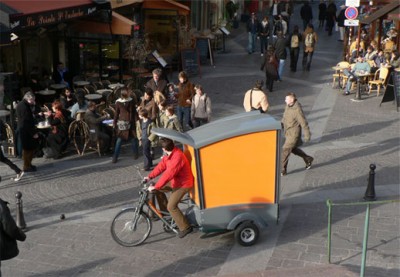 So what's the delivery truck equivalent of the bicycle? Look no further than Paris, the home of 20,000 shared bikes, and there you'll find La Petite Reine, a delivery company that utilizes a fleet of 60 Cargocycles.
With a delivery capacity of 400 lbs. and 50 cubic feet within an 18-mile delivery radius, La Petite Reine completes 2500 deliveries every day for larger corporate partners like DHL that can't access the more intimate street networks of more pedestrian-oriented downtowns.
'La Petite Reine' translates to 'Queen of the Road', the name given by the French to the bicycle. Founded in 2001, the company now serves Bordeaux, Rouen and Dijon.