Transit becoming cooler than cars? What's next?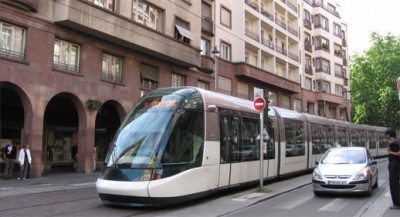 It doesn't matter if it's by bus, subway, light rail, streetcar or commuter rail. It doesn't matter if it's in Minneapolis, Dallas, Seattle, San Francisco, Miami, New Jersey, Houston, Charlotte or Philadelphia. For the last ten years, mass transit ridership has been increasing (see NY Times survey), and significantly the last three months for obvious reasons.
Americans took 10.3 billion public transit trips in 2007, up 2.1% from 2006, but transit planners are expecting 5% growth in 2008, the largest in a decade amid the first yearly decline in gasoline use since 1991.
The NY Times illustrates this brilliantly in this vignette from their Gas Prices Send Surge of Riders to Mass Transit article:
Brayden Portillo, a freshman at the University of Colorado Denver, drove from his home in the northern suburbs to the downtown campus in his Jeep Cherokee the entire first semester of the school year, enjoying the rap and disco music blasting from his CD player.
He switched to the bus this semester because he was spending $40 a week on gas – half his salary as a part-time store clerk. "Finally, I thought this is stupid," he said, and he is using the savings to pay down a credit card debt.
What's next? The photo above displays the third option – the pedestrian. Covered a couple of entries ago here, progressive, creative residents in pedestrian-oriented communities are finding opportunities to achieve something they only dreamed about ten years ago… pedestrian-only streets.
Image source: Tram, car and pedestrian in Strasbourg, France by Jasperdo.