NY to close major streets to cars on August saturdays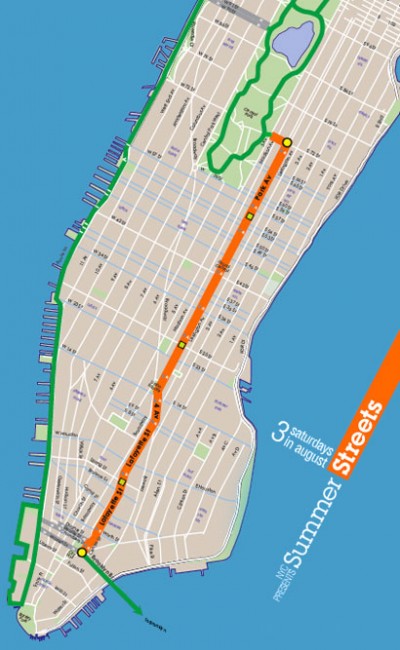 Emerging generations want more pedestrian areas, less traffic-congested streets. In Manhattan, pedestrians are literally running out of sidewalk room. This August, New York City is conducting a ground-breaking historical experiment called Summer Streets, to provide a bold answer to this growing demand.
On August 9, 16, 23, three Saturdays between 7am – 1pm, the following streets will be pedestrian only, closed completely to auto traffic:
– Downtown Routes – 6.9 miles: Park Avenue between East 72nd Street & East 14th Street and Centre Street/Lafayette Street/4th Avenue between Brooklyn Bridge and East 14th Street.
– Central Park Route – 6 miles.
– Hudson River Greenway (between Battery Park & Inwood) – 14 miles
NY's government is taking the lead on this one, headed by the NYC DOT (Department of Transportation) and Mayor Bloomberg, "If it works, we'll certainly consider doing it again. We have never been afraid to try new ideas, especially the ones that have the potential to improve the quality of life." See the mayor's public announcement here.