Paris' city-wide bike sharing inspires city-wide car sharing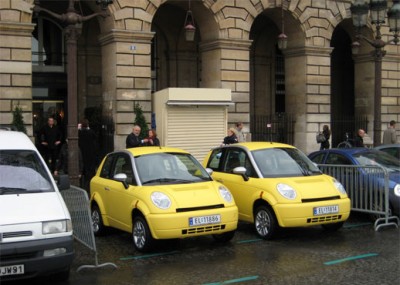 What's a city that launches the world's largest bike sharing program, Velib ('free bike'… for the first 30 minutes), do for an encore? It announces the world's largest electric car sharing program, Autolib. However, unlike the wildly successful bike sharing program, it's unclear if this will result in more or less people driving. We'll soon find out.
The highlights:
– 3000 (previously 4000) electric cars
– 700 pick-up points
– Drop off anywhere (a computerized system will let you know of available parking spots)
– Monthly fee of $20 (previously $300-$400), including electricity.
The contracted company that will operate the progarm has yet to be chosen.
Image source: signonto.think.