Crowdsourcing a coworking district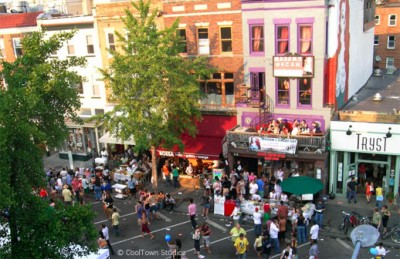 Every major city nowadays has a coworking space, but what about a coworking district? That's the plan with the nascent Adams Morgan Works program.
With 30 million people and counting working at home as we transition to a knowledge-based economy, coffeehouses and coworking sites are becoming increasingly popular, most of which thrive in natural cultural districts. Thus in Adams Morgan, Washington DC's preeminent natural cultural district, a movement is underway to transform a rather dead day scene into one as vibrant and active as the central business district.
Given evidence of a dayworking population of customers via beta communities, Adams Morgan merchants will agree to open their businesses during the day based on the beta community's needs. The neighborhood will benefit from a virtual dayworking community that is manifested in the physical world by the area's existing and crowdsourced coffeehouses, cafes and restaurants, spurred by dayworking happy hours and work events around like-minded work circles.
Check out the targeted Adams Morgan dayworking vibe in this Affinity Lab-produced video.