SF's Ferry Building Marketplace inspires urban life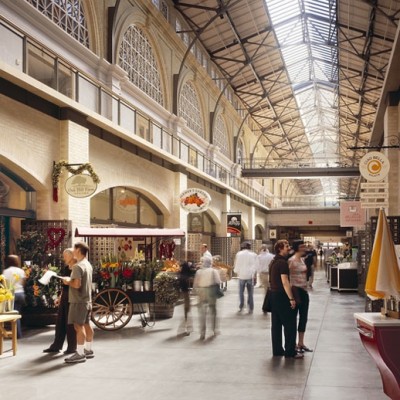 How do you breathe new life into a city waterfront? Check out San Francisco's Ferry Building Marketplace.
Built in 1898, San Francisco's landmark clock tower was the West Coast's Ellis Island, but by the mid-20th century had become obsolete. After decades of mundane office use, it reopened in April 2003 as a cosmopolitan marketplace, with its Farmers Market attendance doubling and merchants consistently exceeding sales goals.
It's lessons for success? The San Francisco Chronicle lays it out:
Preserve what's essential: Keep as much of the historic building as is feasible. Some proposals suggested eliminating the buildings you see above.
Add what's needed: A 30-foot-wide promenade was added between the building and water that wasn't practical in its ferry days.
Don't be afraid to mix old and new: The ground floor had a ceiling until the architects opened it up as an atrium to the skylights above, and exterior additions toward the promenade used contemporary design.
Don't go overboard: Previous schemes involved 'starchitects' that would have alienated people looking for a down-to-earth experience, which it is today, much less hiked up the rents to boutique and chain status.
Keep it simple: Plain concrete floors, communal tables, in reference to the point above.
Be part of the real city:1.7 million commuters annually pass through the six ferry berths behind the landmark and the farmers market is the city's finest.
Contrasts can be good: While the building forms a massive tenth-of-a-mile wall blocking views of the water (the reason why some wanted it demolished), it also provides the only such public gathering place on the water.
*Go local: Indie restaurants provide a variety of $ and $$$ menus, along with a bookstore, an old-fashioned Italian deli, and fruit stands.