The time is now to crowdsource the places you want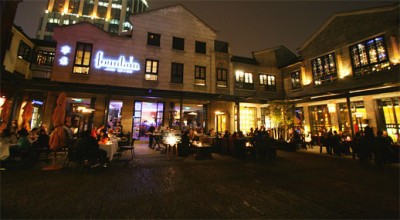 Is there a third place you'd like to see in your neighborhood? Wish there were affordable green loft residences in your city? Think it'd be cool to have a pedestrian-only district brimming with outdoor dining? In the industrial economy there was little we could do about it. However, in our current knowledge economy, that feeling of helplessness is gone – the power to realize our collective intelligence manifested via inspired built places is now.
Here are a few resources to get informed, in increasing order of commitment:
– Crowdsourcing Cool Places for Creatives (13 pages)
– Remixing Cities: Strategy for the City 2.0
– We Are Smarter Than Me: How to Unleash the Power of Crowds in Your Business (176 pages)
– Here Comes Everybody: The Power of Organizing Without Organizations (338 pages)
– Crowdsourcing: Why the Power of the Crowd Is Driving the Future of Business (August 2008)
Bookmark this entry URL for when people ask you what resources they can read to better understand how they can crowdsource the collaborative vision of creatives into real places, events and scenes.
This entry also marks the introduction of the CoolTown wiki and forums, though I'm still getting the bugs out. Please do post your thoughts via the discussion thread link below.
Image source: Shanhai, by YY