A forum for creatives in DC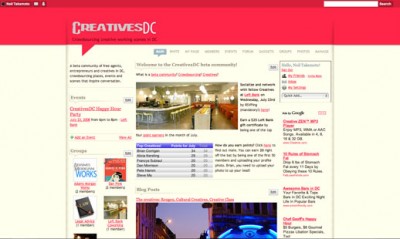 If you're a creative in Washington DC, then CreativesDC is just for you: "A beta community of free agents, entrepreneurs and creatives in DC, crowdsourcing places, events and scenes that inspire conversation."
CreativesDC launched July 11, 2008 and its founding dozen members have already invited 100 of their fellow creatives (assume a 10% conversion rate) – that's the power of community focused on a vision. By the end of July 15, the invite list will hit a thousand (again, a 10% conversion rate, resulting in a 100 new members in about a week) as local 'gatekeepers' organize a kickoff party on July 23. This is an example of the viral loop.
What's the point? One longtime wistful request of the innovators in DC has been a forum to meet one another, even collaborate. What CreativesDC provides is not only an opportunity to provide that, but the means to create, as stated, the actual places (eg a design-oriented coworking site), events (eg monthly happy hours) and scenes (eg an active daytime entrepreneurial population) that represent those collaborations – via its groups. This can easily be replicated in other cities.
Update: The group membership stands at over 350 a few month later, as of November 2008.