NYC continues its pedestrian renaissance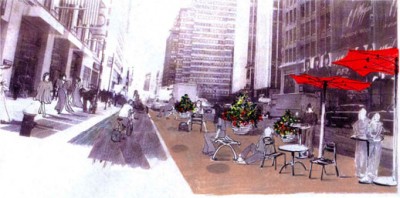 Manhattan is on a roll – first there's Summer Streets where major streets are being closed to cars on August Saturdays, then talk of a bike sharing program and there Streets to Plazas program, and now what has become a rather mundane announcement that they're turning two of four lanes on Broadway in Midtown into a pedestrian and bicycle zone – to be completed in mid-August 2008, permanently.
To be known as Broadway Boulevard between West 42nd and West 35th Street, the project will feature a Euro-style designated bicycle lane and a host of public gathering spaces that include cafe tables, chairs, umbrellas and planters.
Once again, the effort is being led by Mayor Bloomberg and the NYC DOT (Department of Transportation). All cities need to take note of this level of government leadership if they're to establish their own pedestrian-friendly destinations.
Read more at NY Times: Closing on Broadway: Two Traffic Lanes.