Bicycle (powered) music festival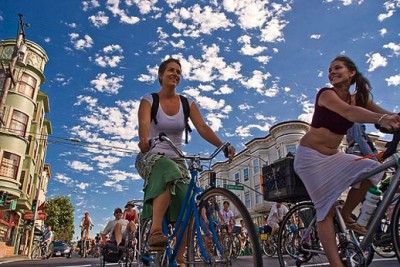 There are 'green festivals', then there's San Francisco's second annual Bicycle Music Festival, a one day, 15 band, 7 festival stop, free music festival that uses zero cars, trucks or even electricity. How?
– The bands all carry their equipment via bicycle trailers.
– The audience arrives via bike, skate and foot. They then travel sequentially to each of the seven festival stops in different parts of the city.
– The 600-watt P/A system is pedal-powered, developed by Rock the Bike in Berkeley, which produces some pretty snazzy bike lights. They also cofounded the festival along with The Juice Peddler.
Check out more in their video.
Image source: 2008-06-21 Bicycle Music Festival (Set)