Maryland's first pedestrian-only mixed-use lane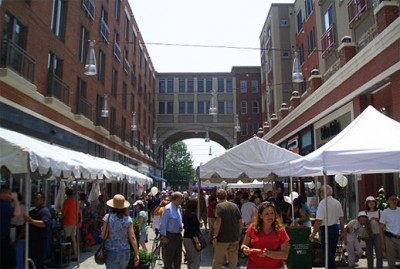 Maryland's first pedestrian-only street in several decades, Ellsworth Drive, was profiled in the previous entry, but it's not the only one. In Bethesda, a town at the edge of Washington DC, Bethesda Lane opened in June 2008. If Ellsworth Drive reminds people of Downtown Disney, then Bethesda Lane conjures up Universal Studios. It features 44,000 s.f. of retail distributed through 16 shops and restaurants, mostly chains and luxury items, topped with 180 luxury apartments.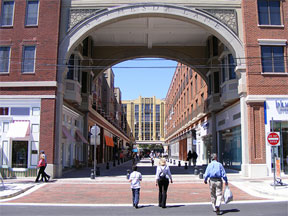 It obviously does not appeal to the vast majority of creatives and it looks like a new stage set at Universal (though a very sharp looking stage set). However, it's an extremely favorable sign of things to come as far as pedestrian-only streets go, all but considered a pipe dream as recently as five years ago. Plus, it has free public events, lots of outdoor seating and provides a couple hundred alternatives to commute-intensive mcmansions. So no, the average person can't afford to live or shop there, but at least they can find opportunities to linger.