Free 'ecocabs' hit city streets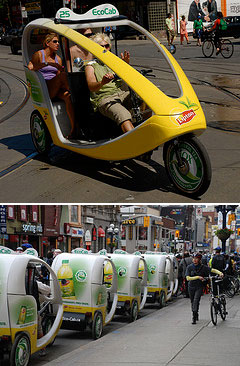 If you think being advertised to is worth free zero-carbon rides through town, then EcoCabs is just for you. Rapidly spreading throughout Europe and North America, this Dublin-based shuttle service relies on pedal power with electric-battery assist. Passengers say the ride is surprisingly smooth with some acceleration kick. Some of the vitals:
Launched: April, 2008
Maximum number of passengers: 3
Top speed: 7 mph/12 km/h
Where: Dublin, Ireland, Toronto, Canada; New York, Chicago, Detroit, California…
Cost to passenger: Free as far as money goes, subject to full vehicle advertising and occasional flyers
Cost per vehicle: $13K
Click here to see videos of EcoCab in the media.
On the one hand, would it be disturbing to be surrounded by a swarm of corporate-branded vehicles? On the other hand, aren't taxis, buses and subways going the same route anyway? A combination of free, fun and green is an awfully powerful combination to affect peoples' behavior. What do you think?