White Night' all night art festivals sweep the world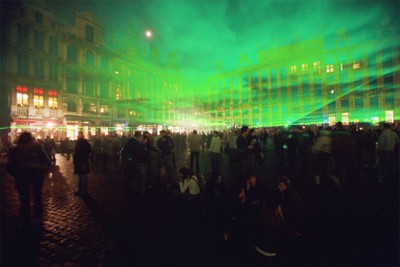 What do Paris, Toronto, Copenhagen, Madrid, Malta, Montreal, Sao Paulo, Lima, Santa Monica, Chicago, Miami Beach and six cities in the UK have in common? They all host an all night art and cultural festival known as Nuit Blanche (White Night), which lasts from sundown until sunrise on the first Saturday and Sunday in October. While Paris kicked off the Nuit Blanche series in 2002, they were inspired by the 'Lange Nacht der Museen' (Long Night of Museums) held in Berlin, Germany since 1997, which goes from 6 pm to 2 am and has since expanded to 125 cities.
These events are focused on the downtown core of the city (streets closed to cars) which becomes an art gallery unto itself, infused with museums, art galleries and cultural institutions offering free admission to a suite of creative events and experiences including art installations, performances (music, film, dance, performance art) and themed social gatherings. Rome's Nuit Blanche is one of the largest, attracting two million people via 400 events, while other cities focus on a more manageable 100. Read more about the different themes in this NY Times article, Outbreak of Insomnia is Spreading.
Think of it as a downtown Ciclovia for after hours – on steroids. Every city should have one, and in Europe practically every city does. It brings new meaning to dancing in the streets – all night.
Thanks to Braulio Agnese of Architect magazine for the reference.
Image: Nuit Blanche in Brussels.