Outside: Top renaissance cities 2008′ (1 of 2)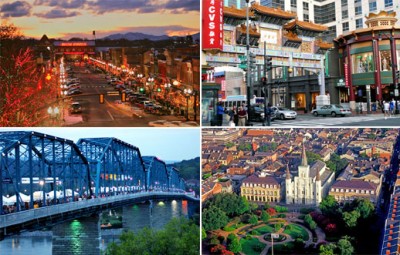 We've seen endless list of best places to live, work, walkable etc. etc., but here's one that looks at the best cities that are remixing, reinventing themselves – Best Towns 2008 from Outside magazine.
Washington DC – Recently revitalized Adams Morgan, U Street, and Chinatown are attracting creatives in droves, recent mayors have brought strong leadership, and DC just introduced the first bike sharing system in the U.S. Plus the newly formed CreativesDC social network!
Chattanooga, TN – The city rebranded itself as an outdoors destination, investing $120 million in the waterfront, a Renaissance Park, adding 2000 downtown trees and their own Greenspaces green building program. For a big city, Chattanooga has a rare sense of collaborative spirit.
New Orleans, LA – No where in the world is their more grassroots initiative, resulting in inspiring projects from the musician's village to a celebrity chef Edible Schoolyard program to the Young Urban Rebuilding Professionals and their upcoming CoolTown-assisted beta community focused on a specific neighborhood.
Ogden, UT – In 2000, 38-year-old mayor Matthew Godfrey committed to transform Ogden into the adventure-sports capital of America and the rest is history, which now includes kayak parks; a paved trail network; a rec center with climbing wall; vertical wind tunnel; standing surf wave; holographic ice tower; aquatic centers and a velodrome. Now that's making good on your word.
Portsmouth, NH – This tiny town of 20,000 between Boston and Portland, Maine is a model creatives destination, attracting emerging musicians and artists via eight indie theaters; a film fest; a slow-food movement; microbreweries; fast-growing young companies (gazelles) and a vibrant live music scene. Yet another story dispelling the myth that small towns can't attract creatives.
Tacoma, WA – A new University of Washington extension provided the rejuvenation of 1920s theaters followed by new museums and a redeveloping waterfront into what is now a well-known arts town. There really is no better talent pool than a university.
More on the rest of the list in the next entry.
Check out Outdoor's interactive map and past winners.
Images from Outdoor (clockwise from top left): Ogden, Washington DC, New Orleans, Chattanooga