Finally, Google Maps for the rest of us (walking, transit)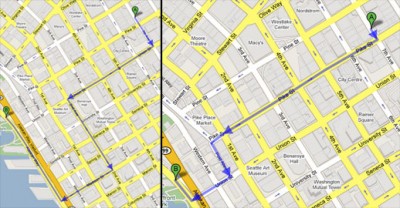 $4/gallon has had quite a snowball effect, and one of the rewards for pedestrians outside of car-free days and cities going glorious bonkers to build bike lanes is Google has finally offered walking directions as an option.
The maps above show the same starting and arriving points, but the one on the left is for driving directions and since July 22, 2008 there's one on the right for walking directions. It's almost amusing how logical the path becomes. Google says they'll try to find you a route that's direct, flat, and uses pedestrian pathways when they know about them, though only if you're going less than 10 km/6.2 miles. I just found out I've been taking the 'long way' to my workplace 0.4 miles away.
I actually don't see Public Transit as an option, which Google says they'll now give step-by-step walking directions for the portion of your trip on foot. However, they do have public transit directions for mobile devices, and that's best explained via their YouTube video.
Get an overall demonstration from their YouTube video – it's worth the two minutes. You'll notice that in more populated cities you can even view street-level photos of where you are at each turn.