Shopping mall turned walkable neighborhood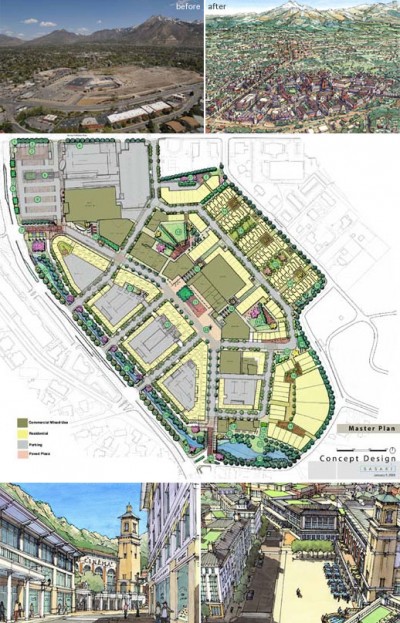 In the 1960s Holladay (within the Salt Lake City metropolitan area) made dubious history by being the first city in Utah to build a shopping mall. In 2008 it's making history again, albeit a bit more noble, by transforming the mall into a walkable neighborhood.
Not only is the developer, General Growth Properties, redeveloping the 57-acre Cottonwood Mall site into a neighborhood, but as a focal point, gathering place and town center for the Holladay community of 14,000. To be known as Cottonwood, the development will consist of shops, residences, offices, riverside trails, and a grand public plaza that will be the stage for civic life. Specifically, the commercial components of the site include retail shopping, cafes, restaurants, a specialty grocery, cinema, and office space, while the residential is a mix of condominiums, townhouses, cottages, and single family homes. Parking decks are hidden behind buildings.
While this is a model for walkability and public realms, it's not designed to attract creatives per se. As is typical with new developments, much of the housing, retail and office space has an upscale market in mind, and one can expect a significant number of national and regional chains. What is important though, is to learn from the positives.