40 U.S. cities looking to embrace streetcars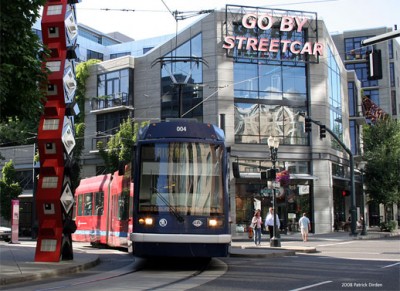 As they say, the more things change the more they stay the same. Streetcars ruled downtowns in the early 20th century. Then cars happened. Then a backlash against suburbia happened. Then rising gas prices happened. Now here we are with 40 U.S. cities looking to streetcars once again as a compelling economic development strategy, nicely reported in the NY Times' Downtowns Across the U.S. See Streetcars in Their Future.
You can read about their myriad economic benefits in a past entry, Romance with streetcars reviving, including the cost advantages over light rail. One significant reason why streetcars are so desirable (no pun intended) is that they're designed to pass the 5-minute rule, as in, wait any longer than that and it quickly becomes a drag. Three advantages streetcars have over buses? They're a lot quieter, infinitely smoother, and have shorter stops since people can board on both sides.
A brief snapshot of where streetcars stand:
Up and running: Boston, Portland, Seattle, Tampa FL, San Francisco, Charlotte NC, Tucson AZ, New Orleans, Kenosha WI, Little Rock AR, St. Louis…
Just getting underway: Denver, Houston, Salt Lake City, Charlotte, NC, Tucson, Birmingham AL, Miami, Trenton NJ…
Strongly considering: Cincinatti, Columbus, Ohio Denver, Washington DC, Minneapolis, Philadelphia and Boulder…
For a comprehensive list, click on the Vote/Comment link below!
Image: The modern streetcar system in the creative Pearl District of Portland, Oregon, which spurred 10,000 residential units and $3.5 billion in development. Photo by SP8254.