Top 12 public squares in the U.S./Canada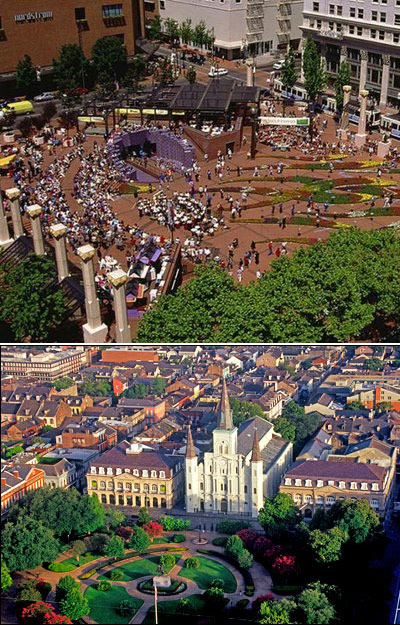 Project for Public Spaces presents its Top 12 public squares in the U.S. and Canada, listed below with a personal critique:
1. Jackson Square, New Orleans, LA (lower image) – You can't go wrong if you're an urban square in the middle of one of the most beautiful neighborhoods in the U.S., the French Quarter.
2. Rockefeller Plaza, New York, NY – Manhattan's (and some say the U.S.'s) central square, and probably the most featured plaza in movies, continues to get bigger and more pedestrian-oriented.
3. Pioneer Courthouse Square, Portland, OR (upper image) – One of the most beloved modern squares in the country, 'Portland's living room' is constantly filled with people, spontaneous activity and planned events.
4. Campus Martius, Detroit, MI – (profiled here) – Former Mayor Dennis Archer set a goal of creating the best public space in the world to celebrate the city's 300th anniversary in 2001, and did well.
5. Union Square Park and Greenmarket, New York, NY – The massive success Greenmarket farmers market spurred a major renovation of the square it's was held in.
6. Bryant Park, New York, NY – A favorite of creatives from around the world, featuring outdoor tables surrounding an expansive lawn amid free wi-fi.
7. Rittenhouse Square, Philadelphia, PA – One of the most beautiful, neighborly squares around, with an urban forest of mature trees surrounded by resplendent historic rowhouses.
8. Portsmouth Square and 9. Washington Square, San Francisco – Portsmouth Square is the neighborhood urban center of activity for Chinatown, and Washington Square is the central park for North Beach.
10. Square St. Louis, Montreal, Quebec – If you're looking for a European square in North America, this French Canadian gathering spot is it.
11. Squares of Savannah, GA – Featured in Forest Gump, there is no better series of squares in North America which are evenly distributed throughout the entire downtown and located in the middle of the main streets.
12. Washington Square Park, New York, NY – The bohemian, progressive center of New York with a dynamic music scene and fame for protests, attracting people of all ages, genders in groups or as individuals, in a range of activities in all parts of the park at any hours on all days.