More community = less architect: 'The Turf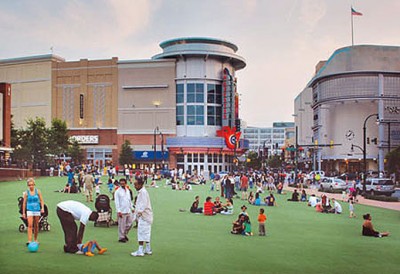 In the continuing more community less architect series, we take a look at Veterans Field in Silver Spring, Maryland, aka 'The Turf', pictured above. The nearly acre-sized lot was covered with a temporary turf field in the three-year interim period before construction began on a new civic building, but since then it has become the most popular gathering spot in the city.
Alas, July 2008 was its last month of existence, but it's another example of the kind of urban space that people are longing for, the same kinds of places that have served as the hearts of communities for centuries – an empty stage surrounded by vibrant restaurants, cafes, markets and shops. What people aren't looking for are places over-designed by architects, hired by developers that don't understand what creatives desire, assigning permanent places for people to sit, eat and walk rather than letting them choose for themselves, and not only that, but be allowed to do things that may not appeal to architects and developres, such as throw a frisbee, watch a live band or revel in a flash mob.
Read more in the Washington Post and the American Society of Landscape Architecture, sharing the remorse for losing the unassuming, under-designed, yet overwhelmingly celebrated Turf.