Viktualienmarkt – Beyond the farmers market
While farmers and public markets are experiencing a renaissance across the U.S., the Viktualienmarkt (Victuals Market) in Munich, Germany provides a model of what a city should do if it wants to take the next step in establishing a regional destination for culture and commerce. Originating from a farmers market itself in 1807, the 5-acre market features 140 stalls, shops and cafes offering your usual market fare times ten, but in a much more elegant setting.
Here's what makes it Germany's most popular public market:
Open everyday on a central square
Not just on Saturdays, but all day on weekdays too until 8 pm, closed on Sundays. Since that means a permanent site, it's been strategically sited on a picturesque square in the heart of the city.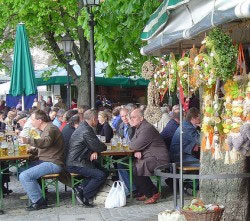 Buildings and stalls are organized to create a place
Unlike most farmers markets where the stalls are temporary and have no relationship to the surrounding buildings, the Viktualienmarkt presents all of its venues as permanent fixtures establishing permanent outdoor rooms, which makes for a vastly festive, convivial dining scene.
Have you been to markets like this in your travels?
Thanks to Luke Graven for the reference.