600,000 vote on their favorite cities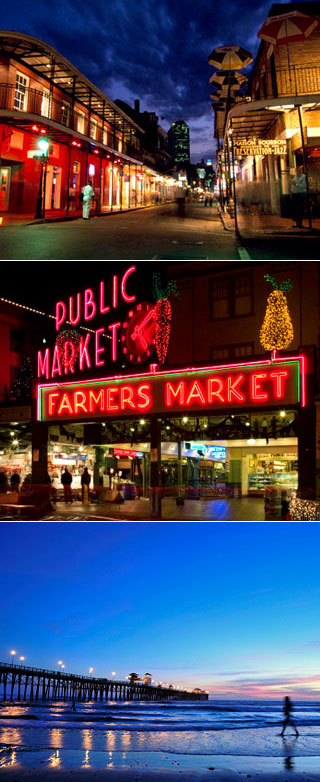 After a while, listening to 'experts' tell you which are the best cities to live, work or play in can start to sound like white noise. However, Travel + Leisure magazine along with CNN, provide a vacation from top down lists with one of the best city comparison tools around based on you; the opinions of 600,000 people. Check out their 2008 America's Favorite Cities guide.
What's refreshing is that there's no emphasis on ranking a top overall city, but only by the criteria that people actually care about, listed below followed by the top three cities, in order, in that category:
People (attractive, friendly, intelligent, athletic/active, diverse, stylish): Austin, San Francisco, Seattle
Type of Trip (romantic escape, wild weekend, family vacation, relaxing retreat, active/adventure, cultural getaway): Honolulu, San Diego, San Francisco
Nightlife (cocktail hour/lounge scene, singles/bar scene, late-night/club scene): Las Vegas – though this is for traveling rather than local nightlife, the latter of which Vegas has been described as lacking by its creatives, New Orleans, New York
Culture (classical music, live music/bands, theater, museums/galleries, historical sites/monuments): New York, Washington DC, Boston
Shopping (luxury boutiques, local boutiques, art galleries, antique stores, vintage stores/flea markets): New York, Charleston, San Francisco
Food/Dining (destination restaurants, ethnic food/cheap eats, cafes/coffee bars, farmers and specialty food markets): New Orleans, San Francisco, Seattle
Quality of Life & Visitor Experience (noteworthy neighborhoods, skyline/views, public parks and access to the outdoors, cleanliness, public transportation and pedestrian friendliness, traffic, safety, weather, peace and quiet, affordability, people-watching, environmental awareness): Portland, Oregon, Charleston, Austin
Holiday Travel (Thanksgiving, winter/Christmas, spring break, summer vacation): Honolulu, San Diego, Charleston
You can size up two cities at a time with their Compare Cities feature as well. Next entry we'll look at some of the criteria that matter to creatives the most.
Thanks to Christian MacAuley of the award-winning Wordage (think 'thesaurus on steroids') for the reference!
Images: New Orleans' French Quarters, Seattle's Pike Place Market, San Diego's coast