Coworking space for women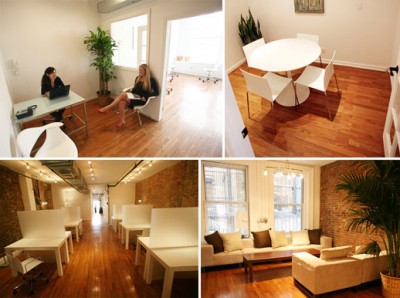 Women make up a majority of those who start their own businesses, so it was a matter of time before that trend intersected with the coworking movement. It also helps to know that top women business builders are looking for creative and affordable environs.
Thus, we have In Good Company (IGC), an affordable/high-value coworking space in the creative capital of Manhattan (Flatiron district) – for women only. It has all the amenities you'd expect in a coworking site, like a conference room, open plan workspaces and wi-fi, priced very attainably from $300/year to $375/month for a workspace. However, meeting room and conference room access are $20/$50 hour respectively, though perhaps that would cut down on the productivity-killing habit of relying on too many meetings :)
Some of the features that are perhaps more oriented to women:
– IGC's many ongoing events don't necessarily cater to women per se (outside of the bi-monthly mom/business owner lunch), but they're presented by successful women in business.
– Effective spaces for casual, more intimate conversation are provided, from small meeting rooms to a welcoming lounge area.
– IGC emphasizes a supportive structure for building relationships. Cocktail minglers and salon forums allow informal networking, formal bi-monthly business support groups encourage members to share their challenges and achievements, and on-site consulting provides targeted assistance.
Comment below if you're interested in starting up a women's coworking space in your city.