Planning's' Great Places in the U.S. 2008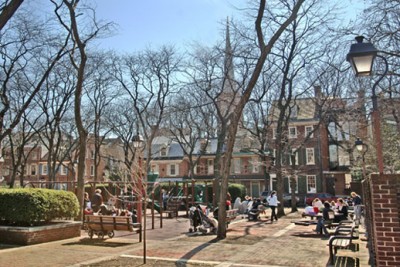 There are few better authorities for comparing the thousands of neighborhoods, streets and public spaces than the American Planning Association, especially since their vast membership represents just about every one of these destinations. Thus, special attention should be applied to their annual Great Places in America, with ten designees in each of the three aforementioned categories. However, they choose new recipients each year, and this is its second year, so you may want to check out their 2007 winners – scroll down to see them here.
How does can this apply to your city, neighborhood? Not only do these provide great models, but the site also lists the detailed criteria for how these were selected.
You can easily see the 30 choices on one page at their Great Places in America 2008 site, so rather than list them all, here's a review.
Great Public Spaces – You can't go wrong with this list, particularly since they didn't have public spaces as a category in 2007.
Great Neighborhoods – The ones with a more urban vibe include Charles Village, Baltimore, Maryland and their deeply strong sense of community; the revitalization of new to complement historic downtown Salem, Massachusetts; the arts community in Echo Park, Los Angeles; the college-life-infused Greater University Hill in Syracuse, New York; the loft conversion movement of Old Town Wichita, Wichita, Kansas; and the beautiful quaint architecture and cobblestone streets of Society Hill, Philadelphia, Pennsylvania (pictured). The others on the list are more small town family/retiree oriented.
Great Streets – Looking at the entries that fit the tone of a freshened natural cultural district at a more human scale, these are the historic, nightlife rich 7th Avenue in Ybor City, Tampa, Florida; the historic fishing waterfront of Commercial Street in Portland, Maine; the true urban of Washington Street in Boston; and the creative urban hotspots along West Main Street in Louisville, Kentucky.