Local fashion meets neighborhood pride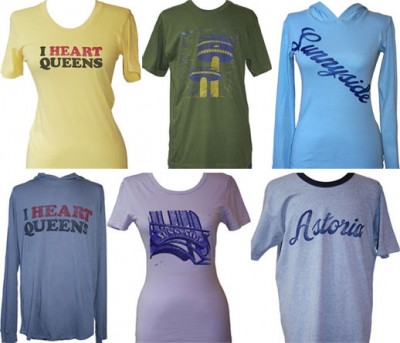 No one in their creative right mind (no pun intended) would wear a tourist souvenir t-shirt displaying their city name, but what if you really did want to display your love for your own unique, authentic neighborhood? If you live in Queens, New York, the answer for many is to buy a shirt from local artist Ciara Elend's Queensbound collection. Think of it as when you wear your ol' college alma mater, except it's in real time and anything but generic.
What inspired Ciara to create the Queensbound line? As she says, "I heart Queens. I really do, and its obvious from all my propaganda. I am making up for those who don't appreciate this kick-ass borough. Queens gets no respect and I'm trying to change that one t-shirt at a time."
A sampling of her descriptions for her creations, going from left to right at the top of the image above:
– "DO U HEART QUEENS? Of course you do. Prove it by wearing this shirt."
– "1964 World's Fair Pavillion, one of the best known structures in Queens. I made a mixed-media collage where I had cut these structure out of two different colors of paper."
– "Inspired by my absolute favorite place, Sunnyside. I drew this font based on those found on a saloon." What she refers to as her 'neighborhoody', it also comes in other flavors – Forest Hills, Jackson Heights, Long Island City, Astoria and Woodside.
– The image on the shirt in the bottom middle is of a landmark arch.
What makes this work is that it's one artist for one borough. It just wouldn't work if she started doing Brooklyn and The Bronx because it wouldn't be authentic, a key attribute for creatives. The real question is, 'Who's your neighborhood's Ciara Elend?'