David Byrne's artful bike racks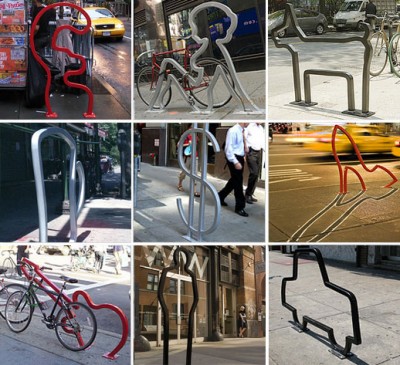 When artist and avid cyclist David Byrne, former lead singer for the band Talking Heads, was asked by the New York City Department of Transportation (no surprise) to help judge a bike rack design contest for New York City, he was so enthusiastic about the opportunity that he submitted his own designs.
With his design prowess and public exposure* however, NYC DOT felt it only fair to distinguish his submissions from the rest. Alas, these particular bike racks will be up for only a year, after which the art gallery that paid to construct them will be allowed to sell them to recoup their costs. Here's to someone winning those bids to keeping them where they are.
Here's the best part – each bike rack represents the local character of where it's placed. Looking at the nine images, left to right, top down…
The MoMA – Museum of Modern Art – modern art, West 54th St./Avenue of the Americas
Mudflap Tammy/The Olde Times Square – the image on truckers' mudflaps to reflect Times Square's seedy past, West 44th St./Seventh Avenue
The Villager – the dog friendliness of Greenwich Village, 536 La Guardia Place, West Third/Bleecker St.
The Coffee Cup – the legendary parisian Hungarian Pastry Shop near Columbia University, Amsterdam Ave., West 110th/111th St.
The Wall Street – how ironic – 82 Wall St./Water Street
The Ladies' Mile – in front of Bergdorf Goodman, a world-renowned luxury goods department store on the equally famous 5th Avenue, at 57th St.
The Hipster – a guitar, Williamsburg, Brooklyn is a home for live music and new bands, Bedford Ave./North Sixth St.
The Chelsea – in front of PaceWildenstein Gallery, perhaps symbolizing the artists, musicians, and writers in the neighborhood of Chelsea, 530 West 25th St./11th Ave.
The Jersey – near the Lincoln Tunnel to NJ – of course, a car. Ninth Ave./39th St.
Byrne is writing a nonfiction book called Cycling Diaries scheduled to appear in 2009. Read more about his involvement in the bike rack installation in the NY Times article, David Byrne, Cultural Omnivore, Raises Cycling Rack to an Art Form.